A WOMBWELL woman wants to thank the Greggs staff who saved her life through their quick-thinking after she went into anaphylactic shock.
Ellie Burrows, 22, of Mont Walk, was on her way into Barnsley with her partner, Jack Ford, when they got off of the bus outside Greggs at Stairfoot.
At the time Ellie had no known allergies and so when she felt a tickle in her throat, she didn't realise how serious the matter was - moments later and she was suffering a severe allergic reaction outside the store.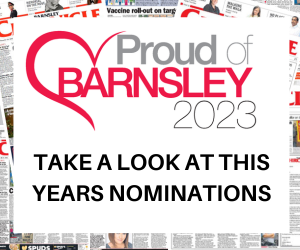 Quick-thinking from the staff, who phoned an ambulance and ensured that Ellie was in a secure situation, really did save her life, Ellie told the Chronicle.
"At around 3.30pm last Tuesday me and my partner were on our way to the town centre and we got off at Stairfoot, near the Greggs store on Wombwell Lane.
"I felt a tickle in my throat and so I thought that I'd only need to get a drink to sort it out.
"A couple of minutes went by and I started struggling to breathe and I had absolutely no idea what was happening.
"The staff on shift at this time acted very quickly to call emergency services and get an ambulance to me in just six minutes.
"If it were not for the quick-thinking and actions of the staff I wouldn't be here today."
Once the ambulance arrived, paramedics found that Ellie had suffered an anaphylactic shock - a rare, but severe allergic reaction that can be deadly if not treated straight away.
She had never had this shock before, but just minutes later whilst on the way to Barnsley Hospital, Ellie went into shock once again and was in a life-threatening position.
"Whilst I was in the ambulance I had another anaphylactic shock and turned blue - I found it so hard to breathe again," she added.
"After an overnight stay at Barnsley Hospital being treated for two bouts of anaphylaxis, I am now home and back to full health and will be carrying an EpiPen with me at all times.
"This wouldn't be the case had it not been for the Greggs staff - they saved my life and I don't know what I'd have done if they weren't there."
Unfortunately, Ellie doesn't remember the names of any of the staff - a young man and a young lady - but she's now on the hunt to find them to show her gratitude.
"I feel completely fine now apart from a bit of a sore throat," she added.
"I want to show how grateful I am for everything they did because I had no intention of ringing an ambulance - they really saved my life.
"I have also written an email to Greggs head office as I would not like this to go unrecognised by the company.
"The staff at the Stairfoot store are an absolute credit to the company and Greggs brand.
"I'd also like to say thank you to the ambulance crew and all the staff at Barnsley Hospital who cared for me during my stay."