A LONG-TIME smoker who had her first cigarette at the age of eight has spoken out - having become one of the first people in Barnsley to take part in a ground-breaking scheme to reduce smoking-related hospital admissions.
Sonia Davis, 58, has been smoking for half a century, having smoked her first cigarette when she was just eight years old.
However, having experienced breathing difficulties, she was rushed to Barnsley Hospital in mid-June - where she spent more than a week - before signing up to the QUIT stop smoking scheme which has been adopted in the town to save lives.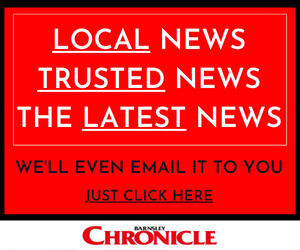 In the nine-month period from April to December last year, 781 people accessing NHS stop smoking services reported successfully quitting at the typical four-week follow-up.
Someone is deemed to have successfully quit if they report not smoking for two weeks - and Sonia, from Darton, has now been cigarette-free for a week longer than that.
She said: "Kids my age used to think it was cool then to hang around with teenagers who smoked.
"They said to the younger kids 'would you like to have a go at this' and that was it.
"By the time I was 12 I was smoking in the house - we used to wait until mum and dad had gone to bed and then took all the roll-up ends apart to make new ones.
"Last month, it felt like there were two vices around my chest.
"My breathing is affected and my kidneys are not filtering properly.
"Smoking has contributed - I had cut down to ten to 15 cigs a day as I'd been feeling 'phlegmy'."
Sonia saw QUIT advisors Leigh-Ann Saunderson and Moyra Ramsden, and is using nicotine patches and an inhalator to treat her tobacco addiction.
Barnsley's rate of successful quitters - based on Public Health England (PHE) population data - last year was 2,126 per 100,000 smokers.
This is higher than 2017's rate of 1,863 per 100,000 smokers, but significantly lower than 2019's 2,718.
Based on evidence from successful smaller schemes in Ottawa and in Greater Manchester, QUIT is the largest project of its kind in the world and will 'transform' the way smoking is tackled by the NHS in the borough.
Rather than seeing smoking as a lifestyle choice, hospital staff now recognise it as tobacco addiction - a medical condition they have a responsibility to treat as part of patients' routine hospital care.
In Barnsley 18.3 per cent of adults are smokers, well above the national average of 13.9 per cent.
Dr Richard Jenkins, chief executive of Barnsley Hospital, said: "We know that smoking is the single greatest cause of preventable death, disability and illness so the QUIT initiative makes perfect sense - especially when it is our job as health professionals to reduce harm to health.
"By treating tobacco addiction, we will save lives, decrease inequalities in health and save the NHS money that can be reinvested in new services.
"We spend over £26m a year on smoking-related hospital admissions in the region and QUIT has the potential to save thousands of lives and hospital admissions here.
"By treating tobacco addiction, we will save lives, decrease inequalities in health and save the NHS money that can be reinvested in new services."