FURIOUS environmental campaigners held a town centre protest against Barnsley Council's 'continuous' building on the borough's green spaces.
The event - led by Extinction Rebellion - saw around 70 protesters march past the town hall last Saturday.
A rally was held outside the market with speakers from local environmental campaign groups including Rebuilding Environment And Community Hoyland (REACH) and the Stop MU2 and MU3 group.
Campaigners blasted the local plan - the council's development blueprint - which has paved the way for the new Hermes warehouse at Hoyland Common and housing developments in Royston and Carlton.
Rachel Stewart, from the Stop MU2 and MU3 group, said: "We're told that 2,000 houses will be built on land behind Carlton Primary Academy and green belt land beside Carlton Marsh.
"There's so many protected animals and birds there - kestrels, skylarks, larger mammals, hedgehogs, water voles, buzzards, owls and peregrines, all of which need large enough areas to hunt and provide territories for them. The local anger means that we now have 2,300 online members.
"The support for our campaigns has been amazing."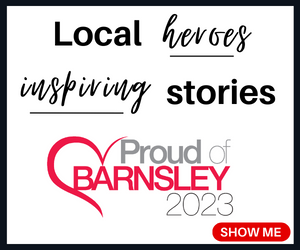 Protesters said the development process had 'failed to consult local communities'.
They stressed the need for new housing estates to have solar panels, access to good buses and adequate cycle ways and footpaths.
Pete Deakin, from REACH, added: "Access to the countryside has been a really important safeguard for so many people during the pandemic.
"It emphasised the importance of access to nature to help people's mental and physical welfare.
"We believe Barnsley Council needs to engage with local communities to develop plans that meet local needs and ambitions.
"This land used for walking and recreation is being taken away from people - what will the council and developers give back in return?"
The controversial local plan was adopted by full council at the beginning of 2019, and identified areas for future development.
Coun Tim Cheetham, Barnsley Council's cabinet spokesperson for regeneration and culture, said: "We understand that people have strong feelings around decisions to develop some areas of the borough.
"Our local plan was adopted following public consultation and examination by an independent planning inspector and approved in January 2019.
"This was scrutinised in detail by the Planning Inspector appointed by the Secretary of State to assess our plan.
"Following a two-year public examination, it was agreed that allocating some land within the green belt was required.
"Since that time, we have led detailed consultation on all masterplans for Barnsley to make sure we can work with developers to get the best outcomes for residents.
"We've been honest that we must develop some areas of the borough to meet the growing need for better housing and more jobs, supporting our plans up to 2030.
"We understand the initial impact on residents and will be working with developers to shape these sites to fit in within our local landscapes and countryside."