A WOMBWELL youngster who made a 'remarkable recovery' after undergoing open heart surgery at just 22 months old will start school next week.
Arlo Studd, who is now four, was born on August 15, 2017, but following checks after birth doctors found that he had a heart condition which would require further appointments as he grew.
It was shortly after the youngster's first birthday that his parents, 33-year-old Megan and Adam Studd, were informed that he would need open heart surgery due to a 'large hole' in his heart.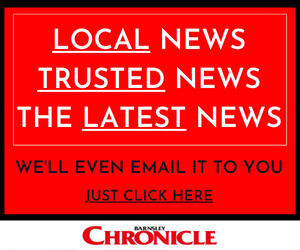 Arlo also had a double-chambered right ventricle - a heart defect in which the right ventricle is separated into a high-pressure proximal and low-pressure distal chamber - which needed to be re-sectioned.
He had the operation on June 7, 2019, in a six-hour surgery which felt like a 'lifetime' for the family.
Megan told the Chronicle Arlo has made an 'absolutely remarkable recovery' and that he's a 'really active' young boy - something she admits they weren't sure would happen.
She said: "He's just a really active little boy doing things that we didn't know if he'd be able to.
"He loves to go on the trampoline, swimming and he plays football for Wombwell Main - he recently got a trophy for the under-fours.
"It's an absolutely remarkable recovery."
He's set to start primary school on Monday and Megan admits that she's 'nervous' to see him off for his first day.
"He's starting at The Ellis in Hemingfield next week and I'm really quite nervous that he's starting school," she added.
"Arlo's really excited to go though to make new friends and start school.
"He has been to nursery but that was on and off because of Covid so this is a bit different. To say he spent some time in ICU and how far he's come from his surgery is amazing - he's just a normal boy.
"He's got a scar which is fading but he's proud of that."
Whilst Arlo was recovering at Leeds General Infirmary, the Children's Heart Surgery Fund helped Megan stay in a room so that she could be close to her son.
That's why on Sunday Arlo's dad, Adam, his two brothers Jamie and Ryan Studd, and friend Tyler James, decided to jump out of a plane 15,000 feet high in the sky to give back to those that supported them during tough times.
They've already managed to raise more than £2,600 and Megan says they'll definitely pass the £3,000 mark.
"Adam, his two brothers, and their friend wanted to do something for them because of how they helped us while Arlo was in hospital," she added.
"It was originally scheduled for last August but it had to be cancelled because of Covid so they ended up doing it on Sunday. They've raised an incredible amount of money and it's really great that we're able to give back to them because they helped us so much."