POLICE are appealing for information after a man chased a 'terrified' young girl down the street.
Rebecca Winder's 11-year-old daughter Hollie, who lives near the town centre, was on her way back from the park on Doncaster Road at around 7pm last Monday night when she noticed a man acting suspiciously behind her.
Rebecca told the Chronicle: "She was playing with her friends at the park on Doncaster Road when she decided to head home at about 6.50pm.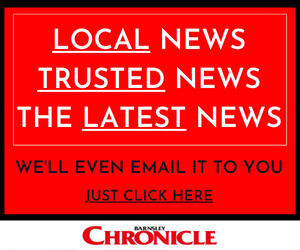 "She saw a man that was looking at her weirdly and so she started to walk faster to get away from him.
"The man then starting walking faster and that's when she started to run - he did the same."
The youngster was fortunate enough to run into her friend's dad before anything could happen, but Rebecca admits she was terrified about what could have happened had he chased her for longer.
"When the man saw her friend's dad he just turned around and went back down towards Doncaster Road," she added.
"I want people to be aware that this sort of thing is happening so it doesn't happen to anyone else.
"It's terrifying to think what could have happened."
Police confirmed enquiries are ongoing to find the man, who is described as white and tall, with long, black hair and a black beard.
A spokesperson told the Chronicle: "We were called on Monday evening by a member of the public to report that their 11-year-old daughter had been followed by an unknown man along Doncaster Road in Barnsley.
"An unknown man is said to have followed the girl, before she spotted somebody she knew and approached them.
"The man has then turned around and run off in the direction of Tuscany Gardens and Kendray Fields.
"Witnesses saw the man fleeing and have described him as white and tall, with black hair that came down to his ears and a black beard that came down to his chest.
"He was wearing a dark hoody, baggy jeans and a black facemask.
"Enquiries are ongoing.
"If you have any information, or were in the area at the time and saw or heard anything suspicious, please contact 101 quoting incident number 764 of September 13, or the independent charity Crimestoppers anonymously on 0800 555 111."