A HUGE blaze engulfed a storage container on Penistone Show Field - destroying expensive equipment used for the annual show.
The container belongs to Penistone Agricultural Society and was used to store Penistone Show equipment.
Janet Dimelow, 72, of nearby Bluebell Avenue, caught sight of the fire out of her window.
"I was just so shocked and utterly amazed - I don't understand why anybody would want to do that," she said.
"It's very shocking and so needless."
CCTV footage from Janet's house shows the fire was started just after midnight on Saturday morning, and fire crews attended to extinguish the blaze at around 3am.
"I went to bed late and always wake up in the middle of the night," she added.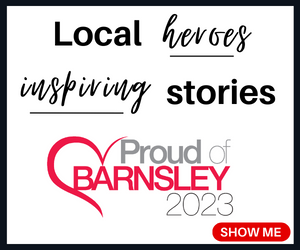 "My bedroom is on the front of the house, and I caught sight of the blaze through the back bedroom where I don't bother closing the curtains.
"I was pretty shocked because I'd just woken up and saw this blaze, then it dawned on me what it was that was burning.
"Looking back at the CCTV footage it seemed like the people doing it were hidden from my cameras behind the container, and had started it from the front end.
"It was only just in the scope of our CCTV cameras.
"We were just fortunate it didn't catch anything else, it could have easily caught the trees and spread."
Janet called the fire service who entered the field through the park area on Schole Avenue to extinguish the blaze.
Rebecca Barnett, secretary of Penistone Agricultural Society, added: "We've been victims of vandalism before, but this is getting a bit beyond a joke now.
"The container was storage for property used for Penistone Show, so this fire has caused thousands of pounds of damage.
"They didn't just set the container ablaze though, they had actually carried the sofas which were stored inside down to the skate park in the other field and arranged them in a sort of square around what looks like was another fire they had made.
"So they hadn't just been doing all this damage - they had been doing it and enjoying themselves - and even set themselves up with a fire.
"These weren't little kids these were people who knew what they were doing.
"There will be even further costs and trouble caused for us too as we've got to get someone in to remove the burnt out trailer."
A spokesperson for South Yorkshire Police confirmed an investigation is underway.
"Police were called at 3.48am after fire crews alerted officers to the fire, which is thought to have been started deliberately.
"Two fire crews from Stocksbridge and Barnsley stations were also called out.
"The crews used two hose reels to extinguish the fire which is believed to have been started deliberately.
"Crews left the scene at 5.45am."