A NEW shuttle bus service which will help hundreds of cancer patients in Barnsley to and from potentially life-saving appointments was launched on Wednesday.
Weston Park Cancer Hospital patients can now use the free service to attend vital appointments, thanks to the hospital's charity team and volunteer drivers who have stepped up to offer their services.
Retired cricket umpire Dickie Bird, 88, attended the official launch at Oakwell stadium and has donated £20,000 to them this week.
Barnsley FC legend Bobby Hassell, whose son Bayley is currently in remission after suffering from a rare form of cancer, was also at the launch to celebrate the new service.
The bus service is hoped to support patients to overcome transport barriers to the hospital, which is about 15 miles away from Barnsley town centre, with no direct link via public transport.
Hospital bosses said difficulties with travel have even driven some patients to refuse treatment there - something they hope the new service will help to prevent.
Between January and October of this year, Sheffield Teaching Hospitals carried out 10,422 oncology consultations for 2,268 patients from Barnsley, and 20 per cent of all Weston Park patients are from the Barnsley area.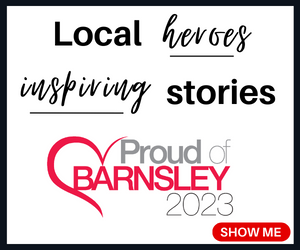 Matt Hadley, the transport co-ordinator at Weston Park who has spearheaded the organisation of the new service, said: "I am delighted to be launching the transport service.
"If you live in Barnsley and find yourself needing cancer treatment it is highly likely that you will have appointments at Weston Park.
"For patients needing radiotherapy, they could have appointments every day for up to 37 consecutive weekdays.
"This can prove very difficult if patients are relying on friends and family to take them, and very expensive if patients are using taxis.
"Our service hopefully means that no one in the Barnsley area would ever have to refuse treatment on the grounds of travel concerns and expense that they just can't afford."
A team of volunteers from Barnsley will drive the bus on a weekly rota and Bob Bell, 74, said he was more than happy to help.
"I think this will be a really convenient help for patients and it will help to keep them away from crowds," he said.
"They have enough stress without transport worries, so if we can take some of their stress away then that's what it's all about for me."
Sara Andrews, lead cancer nurse at Barnsley Hospital, added: "The new shuttle bus service will be a huge benefit for Barnsley patients.
"This kind of approach is used elsewhere in the region and it will be a huge plus for our patients as they will not have to rely on their own transportation or that of family or friends to take them to Weston Park.
"This transport is available to all patients, but for those without the financial means or the support network this will be a lifeline, and we are very happy that we are able to ensure that Barnsley chemotherapy patients can get there when they need to."
The bus service is running every weekday from the Grove Street entrance of Oakwell stadium car park, leaving at 9am and 1.30pm, and brings patients back again after their appointments.
Patients wishing to use the service should book their place by ringing 0114 553 3330 and selecting option two for transport, or by emailing transport@wpcancercharity.org.uk.