A TALENTED footballer whose career was cut short due to injury is celebrating a £1m lottery win with his partner - and says he's 'content and grateful' despite having to leave the game.
Terry Kennedy, 28, from Great Houghton and now living in Thurnscoe, was filmed last month receiving the news in a lunch cabin at the site where he works - and was overseas as footage of his stunned reaction was shared far and wide.
But now the news has sunk in, he and 25-year-old partner Kay Yoxall have - fresh from back-to-back trips to Tenerife and Dublin - begun planning on how they want to spend the fortune.
At Tankersley Manor on Wednesday the pair said they're planning on travelling the world - Covid permitting - but they probably won't go down the usual route of a fancy car or new house, and will instead try to be sensible with the cash.
Terry said: "I don't enjoy building sites during the winter so am planning to get away and see the world.
"Kay can take a break from work so we'd love to go across America, see Australia and also South East Asia.
"The ideal plan would be never to work a British winter again."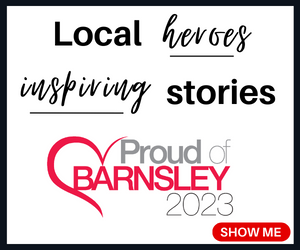 Kay, from Grimethorpe, added: "We're thinking about the future rather than blowing it - we'd prefer to set ourselves up for the future and be able to live comfortably."
Terry is now a groundworker but was once a highly-regarded young defender who made his Championship debut in 2011 for Sheffield United having joined the club's youth system as a boy.
When asked whether it was a difficult decision to leave football, he told the Chronicle: "It was - it's all I've ever known from being a kid.
"I'd been at Sheffield United since I was about six years old.
"I knew it was going to happen - I got told at about 17 by the surgeon when I first had a knee injury that I wouldn't have a long career.
"I had quite a few injuries, so at about 25 I stopped - I was at Guiseley and just couldn't stay fit. It wasn't a shock.
"I stopped playing football then and went over to the building site.
"I started working with my dad last Christmas and that's when I went to the Doncaster job - that's where I got the winning ticket."
Terry - who watches Barnsley and Sheffield United, and is friends with England and Manchester United star Harry Maguire, from Sheffield - has had it suggested the win might be a twist of fate given the way his career ended.
"A lot of people have made comments like that and it's nice to see.
"But we actually had a conversation before it all happened saying how happy we were in life together, and content and grateful - there's always somebody worse off.
"This was the icing on the cake - you buy a ticket, but you don't expect to win."
Kay and Terry picked up the lucky dip almost by accident and nearly left the winning ticket on the counter before the shop assistant called him back saying he could be a millionaire.
Terry and colleagues - including his dad who he works with at a site in Doncaster - spent a while checking the ticket before he called the National Lottery line.
"I kept thinking I'd made a mistake, so I kept checking and checking.
"I was in that much shock I thought, 'it's got to be a prank'.
"I couldn't stop shaking for hours."