A YOUNG boy who raised more than £2,000 for children supported by a sexual abuse support charity - becoming their youngest-ever fundraiser - was recognised for his efforts in an emotional celebration.
Six-year-old Harvey Crouch took it upon himself to fundraise for the charity his mum works for, Barnsley Sexual Abuse and Rape Crisis Services (BSARCS), after coming home from a charity event at school feeling inspired to help kids less fortunate than himself.
Harvey, from Penistone, completed a two-week 50-mile run, walk and cycle challenge - which ended up being 60 miles - and garnered £2,300 in donations to make sure the children BSARCS support would get an extra gift this Christmas.
In recognition of Harvey's generosity, Barnsley FC donated six Boxing Day match tickets to Harvey and his family, along with a signed football to auction off.
The football was bought for £377.45 by one of Harvey's dad's colleagues, and was then gifted back to Harvey himself.
"I'm just so proud of him. I can't quite believe we've raised this much," said Harvey's mum Nina, 31.
"He set out to raise just £200 - enough money to buy treats for the kids at Christmas - but he's obviously gone way over that and now we're able to buy even more games and activities for the children.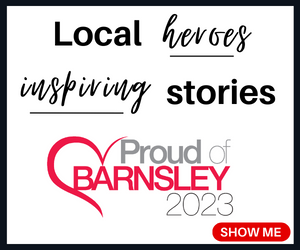 "The whole thing has been such a whirlwind and I can't believe how generous everyone has been."
After being joined by his friends and family for the final leg of his fundraiser, Harvey arrived at Barista in Penistone on Sunday and was met with a celebration and trophy awarded to him by husband and wife Leslie and Judith Turner, the charity's oldest fundraisers.
Leslie, 86, and Judith, 83, of Martin Croft in Silkstone, have supported BSARCS for years and recently donated all of their 65th wedding anniversary gift money to the charity.
"We've supported the charity for a while now, for me it's so important that we help these kids as much as possible as none of what they go through is their fault," said Judith.
"I just think it's absolutely brilliant what Harvey has done - If he is an example of the youngsters of today, there's hope for the youth of tomorrow."
Leslie and Judith presented Harvey with his engraved trophy of recognition.
"For such a caring, thoughtful young lad of such a young age, who has gone out and raised such money, putting himself to the trouble of that - I think it's absolutely marvellous," added Leslie when he handed the award to Harvey.
"This trophy is very well-deserved."
Amy Hitchcock, project development worker at BSARCS who also attended Sunday's celebration, added: "BSARCS is incredibly humbled and grateful for Harvey's fundraising efforts.
"Thank you to everyone who had supported him and donated along the way.
"He is our youngest fundraiser so far and he has done an amazing job and we are all very proud of him."