THE family of a man who's facing months in hospital and may possibly never walk again - after his car was hit by a suspected drunk driver - are 'overwhelmed' as more than £10,000 was raised to support them in a matter of days.
Lenny Hall was initially discharged from hospital a few hours after the crash on Sandygate, Wath-upon-Dearne, on Sunday, January 9.
It was days later when he started to feel unwell at home and he had what partner Kimberly Muscroft was told was a stroke.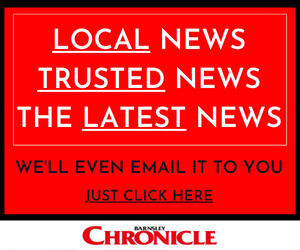 While he came away from the crash with some injuries, it's believed Lenny suffered 'seatbelt syndrome' as a result of the force of the seatbelt on his chest as he was hit from behind by the driver - who was reportedly travelling well above the 30mph speed limit.
It can cause undetected issues such as fractures and internal bleeding, and in this case, a blood clot which saw Lenny taken to Royal Hallamshire Hospital's specialist stroke unit last Wednesday.
Kimberly and her three children have since had little contact with Lenny due to his condition and Covid guidelines.
On Saturday, he spent his 42nd birthday away from his children and his partner of six years.
"It's hard at the moment," said Kimberly, 33, who lives off Sandygate.
"He's managed to walk for the first time, and texted me for the first time.
"It was his birthday on Saturday, but he was in no fit state to be put in a wheelchair and brought to the front of the ward.
"The blood clot has apparently travelled to the biggest part of his brain, which means it's much more severe and his recovery time is going to be longer.
"I've been told in six months' time if his rehab goes well, he may get up to 60 per cent of his mobility back.
"We don't even know if he will be able to walk again.
"He's already started speech therapy and is having observations every four hours.
"He may have another stroke. They're keeping an extra close eye on him.
"All because of a drunk driver."
A HGV delivery driver, Lenny was on his way to work when he was hit, at around 7.50pm.
The impact - which Kimberly heard from their house - sent his car spinning into a wall around 20 metres away.
The other driver reportedly left the scene before handing himself in to police last week.
Lenny was the breadwinner in the family, with Kimberly staying at home with their children.
She said he's 'old-fashioned and doesn't do joint bank accounts', meaning Kimberly will soon have to find a way to pay the bills.
Money is already becoming a worry, with Lenny unable to stay in regular contact or make any arrangements.
That led to Kimberly setting up the Go Fund Me page which, over the weekend, saw a huge outpouring of support on social media that's seen more than £10,000 raised.
"It's a very sad thing that's happened, our lives have been turned upside-down," she added.
"It's been a rollercoaster of emotions, going from mad, to upset, to overwhelmed at all the support and nice messages.
"The kids keep asking where he is - every new day that comes, they think he's going to come home.
"It's hard to have any time to be myself at the minute, I wait until the kids have gone to bed and then I sit and cry.
"I don't know what to tell them.
"We all make mistakes, but this wasn't just a road traffic collision - it's going to change what was a normal life for us."