A HOST of problems stalled the long-anticipated opening of a controversial new £7m one-way road system on a major gateway into Barnsley - but the scheme has been defended as a 'vital' part of the town's ongoing regeneration.
Queues from junction 37 stretched as far back as the start of the motorway exit last Friday morning, and there were similar lines of gridlocked motorists heading towards the town centre from Dodworth.
Barnsley Council has faced criticism since 2018 for its decision to cut through the popular Penny Pie Park with the proposed congestion-busting one-way system on Dodworth Road.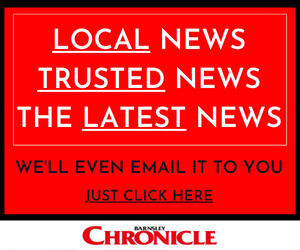 And the partial opening of the scheme - expected to be fully completed in March - only exacerbated that criticism as commuters shared 'horror stories' of long queues, unclear signage and unreliable traffic lights throughout this week.
Work also saw staff and students at Horizon Community College forced to turn up late for their classes, and nearby residents - who had to put up with contractors working through the night for much of last week - complain of bumper-to-bumper traffic directly outside their homes.
Dodworth Coun Peter Fielding said one resident who's lived on Dodworth Road for 30 years had 'never seen the road so gridlocked on both sides' as it was on Saturday afternoon.
"I spoke to one student who said she was 15 minutes late due to the traffic but when she got to her class there were only six others there," he said.
"I've seen a video of completely dysfunctional traffic lights that were changing so fast from red to green and back again that they resembled a set of disco lights.
"Social media was awash with horror stories of trying to navigate the new road layout.
"Like most residents who have been strongly opposed to this scheme, I can only hope that these were just teething troubles and that the junction will operate much better in the weeks and months to come.
"This huge roundabout really is a sledgehammer to crack a walnut but nevertheless, no-one wants it to fail - we as a community have given up too much for that, but it will not be a sacrifice worth making."
Safety concerns were also raised throughout last year as new school starters were greeted by ongoing building works in Horizon's grounds, while a planned walking route through the former park was not opened due to health and safety risks.
Pedestrians have also faced a lack of street lighting, while locals claim 'little effort' has gone into reducing noise and dust from works.
Original estimates saw £4.3m set aside for the scheme's completion but a further £3.053m was granted in December 2020.
"I expect that eventually this white elephant will function as intended," added Coun Fielding.
"But it will not reduce journey times as promised or guarantee there will be no queues on the M1 slip roads at junction 37 any more than the magic roundabouts at junction 36 do."
Coun Tim Cheetham, cabinet spokesperson for place (regeneration and culture), said: "There are some diversions in place, and it will be busier than usual at peak times in this area due to the current phase running at limited capacity, with all lanes not open.
"The synchronised, permanent traffic lights have now been switched off, and the road is now being controlled by temporary traffic lights, which work on separate timers and can need adjustments.
"This is a complex stage of the work, and diversions will allow contractors to complete the remainder of the works safely.
"The full gyratory will then be opened in phases before switching on of the new permanent synchronised traffic controls during the spring, which will improve traffic flow.
"This is a key project, which is vital to support our future business and housing growth plans and improve access to our new town centre, and we thank residents for their patience and understanding at this time."