RAISED in Old Town before her degree and work took her to pastures new, artist Liz West has said returning to Barnsley with her new exhibit has been a 'real homecoming'.
Liz, 36, grew up on Swift Street near the town centre before moving to Glasgow for university.
She now lives in Cheshire, but says Barnsley is still her home.
The exhibit, 'Hymn to the Big Wheel', is the centrepiece to Barnsley Council's current 'Love Barnsley' festival and is in situ in the Glass Works Square in the town centre for the public to observe.
Creating art she describes as 'vivid environments which mix luminous colour and radiant light', Liz has been commissioned worldwide by organisations such as the Natural History Museum, London Design Festival, and the Royal British Society of Sculptors in locations including Paris and New York.
The project was funded by the Eldon Street High Street Heritage Action Zone - a four-year partnership project between Barnsley Council and Historic England to revitalise the Eldon Street area.
Artist Liz explained how she comes from a creative family and her dad, artist Steve West, used to teach art at Barnsley College.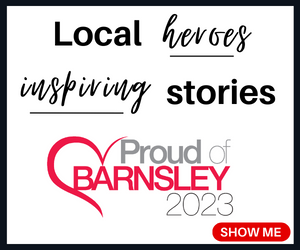 "Some of my dad's students still recognise who I am, and I still have a lot of friends here in Barnsley - it's been the place I've collectively lived for the most time in my life," she said.
"I've seen Barnsley through the years and it's been amazing to return to town this time and see how much it's changed.
"I think the last time I had an exhibit here was in 2018 at the Civic, so it's been a while."