MORE than 1,000 jobs have been created this financial year from investment pumped into a large business site near junction 36 of the M1.
Barnsley Council bosses said they've seen an 'extremely positive' start to commercial investment and job growth in the Dearne area following on from multi-million pound projects.
They say they're expecting in excess of 1.3 million square feet of 'speculative development' to take place in the junction 36 area - a site bosses believe is now a 'very attractive location' for business - in the next two years.
The town has also experienced 'record levels' of property take-up by both local companies and inward investors.
In the past few years, Harworth Group PLC developed the first phase at 'Gateway 36' and subsequently creating more than 150 jobs for the town.
More than one million square feet of commercial property space has been occupied so far in this financial year - as well as 1,002 jobs.
A total of £17m has been invested to enhance the capacity of the local road infrastructure.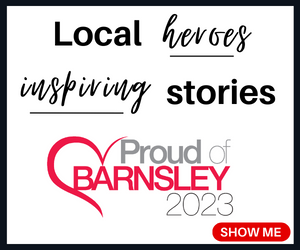 Initial work was carried out to the Cathill, Broomhill and Wath Road roundabouts as part of the A6195/A635 Dearne Valley Economic Growth Corridor scheme.
This included increasing the size of the three existing roundabouts and widening the lane approaches and exits in a bid to reduce traffic congestion at peak times in the area.
In addition to this, a planning application was also approved for the new access roundabout off the A635, which will enable access to the 73-hectare employment site.
A council spokesperson said: "This scheme will be part-funded by Barnsley Council and part-funded from the Goldthorpe Towns Fund Deal, provided by Department for Levelling Up, Housing and Communities (DLUHC).
"The Towns Fund deal will secure more than £23.1m overall investment in investment for Goldthorpe, Thurnscoe and Bolton upon Dearne.
"Final business cases for the investments through the Towns Fund are due to be presented to Barnsley Council's cabinet for approval in April.
"Barnsley is now established as a proven location for business.
"Our award-winning Enterprising Barnsley team works very closely with commercial property developers to stimulate much needed new commercial premises to meet occupier demand, with further major business relocations and expansions due to be announced in the coming months in the Dearne area.
"To keep Barnsley growing, we must continue to deliver our strategy to 2030 and the borough's local plan.
"Barnsley needs more and better jobs and better transport links, and to secure investment and jobs the land needs to be in the right place."
Evri - formerly known as Hermes - will also open their new megahub, the largest of its kind in Europe, later this year.
It's expected to bring 1,400 new jobs to Barnsley, as well as 300 more temporary roles at peak periods, including a range of highly-skilled roles for the wider area.