A PASSER-BY who risked his own life to save a young boy from drowning last week has been overwhelmed following the reaction to his heroic bravery.
Last Monday, 27-year-old Brandon Devennie, originally from Worsbrough but now living in Grimethorpe, was heading to see his son - but what happened next, he says, changed his life.
Whilst walking towards Wombwell, Brandon heard three young lads playing underneath the bridge - though their meeting quickly turned into a lifesaving mission.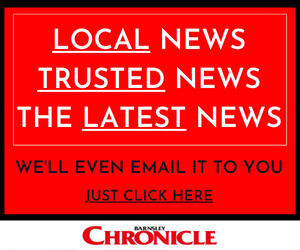 He told the Chronicle: "I was going to see my son in Wombwell so I thought because the weather was nice I was going to walk on the Trans Pennine Trail.
"As I was walking along the path I came to a bridge near Medlam's Farm.
"I could hear some young kids underneath the bridge - I recognised one of their voices so looked over to see three young boys around nine or ten years of age.
"I asked the boy I knew, Riley Rollinson, what they were doing down there as it was dangerous - but his reply was that they were playing a game, making a video for a YouTube channel."
Whilst talking to Riley, Brandon was unaware that another one of the youngsters - 11-year-old Tobie Bailey from Kendray - was stuck in the water and heading towards the nearby waterfall.
"When they told me about their game I told them that it was stupid doing it in there as they were close to the waterfall," he added.
"At the time I didn't realise one of the little lads - Tobie - was stuck in the water in between loads of broken down branches.
"It was at that time I realised he was in a serious situation and I had no option but to help the boy out.
"I panicked and didn't know what to do as I've never experienced something like this - I told the two other boys to get out the water so I could try rescue him.
"I was trying to figure out the best way to get him out alive but it was hard to get down the banking to him."
Brandon spent an hour trying to save the youngster before finally pulling him to safety - and he says he's incredibly thankful he managed to get him out before darkness.
"I was in shock and struggling to think of a way to save him," he added.
"I eventually found this rock in the water so I got onto it - I told Tobie to listen to what I was saying so I could get him out before he fell down the waterfall.
"I said to him that I'm going to reach out with my hand and that I wanted him to jump and grab my hand.
"As he did I managed to pull him onto the rock where I was - we slipped down but I managed to stop us from sliding further.
"If I didn't we both would have ended up in the waterfall as the current was running very fast."
Brandon has since spoke with Tobie's parents - who have thanked him for saving their son's life.
Tobie's mum, 43-year-old Stacey Wilkinson, said: "I am really grateful for what Brandon has done - he was the first person I phoned at the end of the day.
"He deserves a medal because if he wasn't there then I might not have my son.
"It's very lucky the water wasn't up as it could have been very dangerous."
Brandon said he's still getting flashbacks from the incident.
"When I got him up the hill onto ground level he broke down crying, saying you've just saved my life," Brandon added.
"I still get flashbacks from the day it happened as it really scared me at the time and when I realised he was stuck it put me into shock mode.
"But I wasn't leaving without getting Tobie to safety - I even put my own life at risk.
"I'm just thinking about that little boy - if I wasn't there I couldn't imagine and I think he wouldn't be here now."