A LIFESAVING bleed control kit has been distributed in Barnsley - months after an increase in weapons offences was revealed as a concern by police in the town.
Anthony Olaseinde has been fighting against knife crime in South Yorkshire for a number of years - setting up amnesty bins and, more recently, handing out bleed control kits to those who can help whenever it's needed.
He travels to primary and secondary schools to educate children on the matter and he feels that without more education the problem of knife crime is only going to get worse.
He admits that distributing the bleed kits wasn't in his initial vision - but he's doing whatever he can to keep residents safe and handed one of the kits to Barnsley's street pastors last week.
"It's one of the cases where we're hoping they won't need to be used," he said.
"A lot of people can say there doesn't need to be prevention work because they don't think it's happening in their area.
"The kit is there to save someone's life but we should be doing more intervention and prevention work.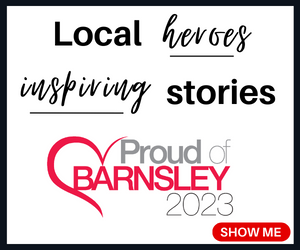 "I never wanted to give out the bleed kits but until people realise it's a real problem this what we're having to do - it was never in my original plan.
"The street pastors do some great work and I'm now looking for a nightclub or venue that can help with the kit."
Each kit costs £60 and the first 20 have been funded by Ant himself - and there's still two more ready to come to those who need it in Barnsley.
Put together by Steroplast and Ant, each kit consists of two pairs of gloves, a face shield, one trauma bandage, a compressed gauze, a self-counting liquid timer, a pair of scissors, a thermal blanket and a tourniquet.
He is also working with medical professionals from the NHS to provide virtual training on how to use the kits should the worst happen.
Office for National Statistics (ONS) figures from January show weapons offences logged in the borough increased by almost a quarter with 291 reports in the 12 months up to last September, compared to 235 in the previous year.
The stark 24 per cent rise is by far the highest in the area, and joint 17th highest in the country.
It's been a common theme in Barnsley over the past two as three people have died as a result of being stabbed.
On June 26, 2020, 43-year-old Stephen Riley was stabbed twice by 38-year-old Martin Wilson who received a life sentence and died shortly after at Barnsley Hospital in the early hours of the following day.
Eleven months later and 61-year-old Agita Geslere was stabbed to death on May 5 at her home on Brierfield Close a post-mortem concluded that she died from multiple stab wounds.
Just months later and 15-year-old Loui Phillips was stabbed to death in an unprovoked 'jealous' attack on Fish Dam Lane on August 8.
Mitch Cavill is the owner of Vape Store and Bargains Galore on Regent Street South and for a number of years has had a weapons amnesty bin inside his shop.
Ant helped him place a bin outside the store - and he says there's always plenty of knives in there, some even resembling 'World of Warcraft-like swords'.
"Over the last three days there's been nine knives put in there including a big dagger," he said.
"There's too many in there to count now - you do get the odd older person getting rid of their knives but a lot are like swords."