THE mum of two young children who were almost killed in a fatal car crash earlier this month says she will never forget the incident - but has been left overwhelmed by the kindness of strangers.
On April 4, shortly after 3.30pm, 29-year-old Katie Rusby was travelling along Doncaster Road, Ardsley, to pick up her husband Craig when she was involved in a road traffic collision.
A blue Peugeot 108 was travelling along the road when it was involved in a head-on collision with Katie's car, a green Ford Fiesta.
The driver of the Peugeot, a 43-year-old woman, was pronounced dead at the scene whilst Katie and her two children - five-year-old William and 12-year-old Ebony - were taken to hospital with serious injuries.
Katie says the incident, which lasted just a few seconds, has changed her family's life forever.
She said she was driving along the road - below the speed limit and with all passengers wearing their seat belts correctly - when the incident occurred, but she puts no blame on the other driver who died at the scene.
"The next thing I know this car that had come onto my side of the road and collided head-on with the front end of my car," she added.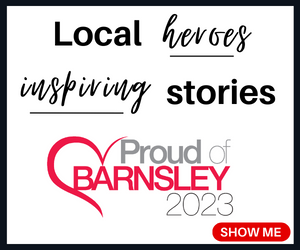 "Me and my kids screamed, my windscreen smashed all the way across and my air bags released.
"I then passed out but I don't know how long I was passed out for - my daughter had also passed out due to her air bag.
"My son was silent.
"I woke up, I looked at my daughter who had blood pouring from her face and I then saw smoke and just screamed that we needed to get out of the car.
"I struggled getting out of the car myself with the pain, I had blood pouring from my face - I could barely see out of one of my eyes.
"I opened the back door to my car and my son was laid across the back seats of the car still with the seat belt wrapped around him, I had to climb in and take the seat belt off him, I dragged him out of the car and got to the kerb."
William was airlifted to hospital and was left with a bleed on the brain, a collapsed lung, damage to his spleen, liver and other internal organs.
He had also broken his spine and had to have emergency surgery on it - and just days later had urgent surgery to have two separate parts of his bowels removed and reconnected.
Ebony was also rushed to Sheffield Children's Hospital - the same place as William - and had broken her wrist and foot in two places.
Both Katie and her daughter have since been discharged from hospital but are still in pain and suffer from flashbacks of the horror incident.
But Katie said support from the family of the other driver involved has also been a lift.
"I couldn't stop thinking of the person's family to have received such tragic news and then to also be told that a mother and two young children were severely injured," Katie added. "All my love and thoughts are with the family every day and will be for the rest of my life.
"They have been nothing but kind and supportive and have asked regularly for updates on me and my children when they are going through such a tragic loss.
"No-one is to blame for this."
A fundraiser was set up after the incident by Craig's sister Natasha, and the kindness of complete strangers has helped raise more than £2,000 to go towards their current bills.
Katie has thanked those who have supported her and her children - in particular the staff at Sheffield Children's Hospital who saved Will's life.
"My lovely sister-in-law set a Go Fund Me page up, which we've had such a unexpected amazing donations made which has been unbelievably helpful these last four weeks for us to pay bills at home and feed ourselves," she said.
"But now we are going to be here for three months with William.
"This will live with me for the rest of my life."