BARNSLEY'S Covid heroes received a special 'thank you' on International Nurses' Day as they were presented with artworks by local schoolchildren.
The works created by Darton Academy students were inspired by staff on the frontlines of Barnsley Hospital's fight against coronavirus and provide a timely reminder of the people behind the headlines and statistics.
They range from realistic portraits of midwives, nurses and medics to more stylised representations, with one student also painting Barnsley's first confirmed Covid patient, Monk Bretton man James Dickson.
James spent 31 days in hospital - 14 of them on a ventilator in intensive care having been put into an induced coma - before he was discharged to a guard of honour in April, 2020.
He was in attendance yesterday as school and hospital staff came together, with students presenting the works to the hospital's director of nursing and quality, Jackie Murphy, and associate director of nursing, Helen Green.
Amie Hudson, the school's art curriculum leader, said: "The students wanted to thank Barnsley's NHS heroes for their contribution working on the front line throughout the pandemic.
"We felt it was really important work and a valuable learning experience to develop compassion, respect, as well as an opportunity to come together to support each other's wellbeing during a very scary and isolating time.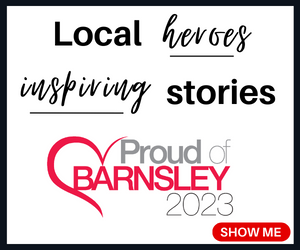 "A local business paid for the artworks to be framed."