'THICK, black smoke' poured from an elderly man's home and into the quiet street outside after an accidental fire which claimed his life.
Emergency services confirmed the man was found dead having been unable to rescue him from the blaze at 5.30pm last Thursday on Newfield Avenue, Monk Bretton.
Named locally as Brian Hunt, the elderly man was known by neighbours as a nice, quiet man who 'kept himself to himself' and was a popular figure in the nearby Sun Inn and Norman pubs.
A resident of Burton Road who wishes to remain anonymous came across the fire as it happened, and told the Chronicle he and another person had attempted to get in the house to rescue the man.
"I was going out with my dog, and as I walked around the corner I saw this girl coming out of the first house, one of the carers for the lady in there who's blind," said the man.
"We were stood there passing the time of day, and all of a sudden the girl said 'oh my god, look at the smoke coming out of that door'.
"I had my back to it. She legged it down there and opened the door.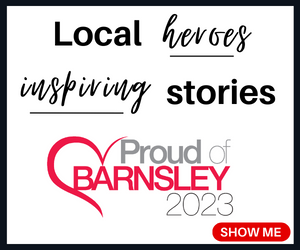 "I tried to stop her, because when you open the door, it might be flames that come out rather than smoke.
"The flames didn't come out, but the smoke hit her straight in the face."
He made sure the woman wasn't hurt and then went back to the bungalow.
"I went down and opened the door, and the smoke wasn't as bad, so I started shouting.
"Although he's lived there for years, I hadn't a clue what his name was.
"I wasn't getting any reply.
"When the smoke had cleared enough, I took a couple of short steps further in the house thinking he might hear me better.
"You do these things without thinking.
"What came in front of me was one of those things where you think, 'surely I haven't just seen this'.
"The guy was on the floor.
"It put me back a bit. I'm glad that girl didn't see it.
"It's very sad to see someone like that.
"Later on I was sat just thinking about it - it has played on my mind.
"He couldn't be saved."
Neighbours told the Chronicle they knew little about the incident until firefighters arrived - within a few minutes of being called.
Three fire crews from Cudworth and Barnsley stations attended the incident.
Kerry Swift, 60, of Newfield Avenue, said: "I was in the garden and heard a smoke alarm going but just thought somebody had burnt something, but after a bit there were plumes of thick, black smoke pouring out of the house.
"I have to praise the fire service - they were out testing everybody's smoke alarms."
A spokesperson for South Yorkshire Fire and Rescue said: "Our thoughts are with his family and friends at this sad time.
"The fire investigation has now completed and the cause of the fire was accidental."