THE history of Barnsley's fascinating collection of rare animals and semi-mythical creatures - once housed decades ago in a town centre museum - will be brought to life this weekend thanks to the imagination of a renowned poet.
The museum, created by the Barnsley Scientific and Naturalist Society, was on the upper floors of the Civic and was known locally as 'the museum at the top of the stairs'.
It featured specimens of birds, mammals, insects and 38 cases of freshwater fish - as well as mythical sculptures - but closed in the 1950s, with some of the exhibits going to Cawthorne Museum.
But now, as part of the multi-million pound Eldon Street High Street Heritage Action Zone project - run by Barnsley Council and Historic England - a double-headed lamb sculpture will make its debut tomorrow at Mandela Gardens in the Civic's shadow.
It's one of a trail of sculptures inspired by the past collection - which also includes a crocodile on Eldon Street - and poet laureate Simon Armitage's words will sound from inside the lamb.
Simon was given access to Barnsley archives to research the history of Eldon Street and became fascinated when he found out there used to be a natural history museum with exhibits of both common and rare animals on the street.
He said: "In some ways it's about getting behind the facade of the street and thinking about the occupiers and the retailers and the use of those buildings.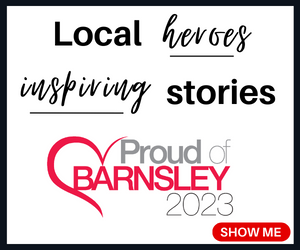 "Something that caught my eye very early on was an item about the naturalist society here and a museum that is almost semi-mythical that had exhibits of rare animals, or animals that were local to Barnsley.
"I immediately had this sense of trying to recreate it."
Simon's poem - Unnatural History - imagines an encounter with the two-headed lamb and the two-headed calf on Eldon Street, and is being used as the inspiration for a Barnsley-wide school poetry competition, where pupils are asked to write about what animals they might encounter on the street.
The winner will have their work published in an anthology alongside Simon's work and those shortlisted will be asked to be involved in the September weekend.
Dr Tegwen Roberts, Barnsley Council's Heritage Action Zone officer, added: "Eldon Street has a lot of animal connections.
"As well as the museum there used to be a circus here, and cattle and sheep auctions in the yards just off the street.
"It is fascinating what stories you can uncover about historic high streets when you start looking.
"We're using art to bring those stories to life, rekindle Eldon Street's sense of place and get people more engaged in their local neighbourhood.
"We really want to use the Heritage Action Zone scheme to help revive Eldon Street and the surrounding area as it is such an important street in the town centre."