PLANS to build a state-of-the-art youth hub - which will cost more than £9m a stone's throw away from the town centre - have officially broken cover.
The planning application, which was officially submitted to the council's planning board earlier this week, proposes the redevelopment of land between Schwabisch Gmund Way and Harborough Hill Road to provide a sports and community centre, as well as an activity park.
Dubbed 'Eastern Gateway', it has been identified as the council's next major project after the completion of its nearby Glass Works scheme later this year and will be co-funded by online fashion retailer ASOS, a firm which employs about 3,000 people from its Great Houghton base.
OnSide, a firm behind a series of successful youth zones across the country, will be the provider of the scheme, while a new group - Barnsley Youth Zone Charity - will form to oversee its running.
It will cost an estimated £9.2m to build, funded by a combination of public and private sector contributions.
Barnsley Council will pay £4.5m towards construction costs and ASOS will contribute £1.2m to the project as its first corporate sponsor, with OnSide committing to generating the remaining construction costs.
A planning document states: "The proposed development seeks to deliver a high quality facility which will provide a variety of sporting, community, and educational facilities, alongside establishing the principles of a wider activity park for which outline consent is sought through this application.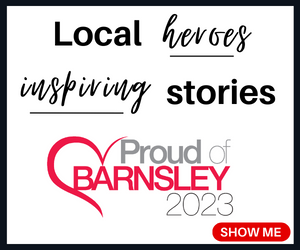 "OnSide provide opportunities to inspire young people to lead healthier and more positive lives.
"Potential is everywhere and the zone will provide the space for young people of the town to try new things and face challenges in a safe environment, supported by staff and volunteers who care, giving young people the chance to build career skills, life skills and confidence.
"All lead to young people having raised aspirations for the future with the prospect of growing to become happy, caring and responsible citizens, with more to offer themselves, their families, the community and employers."
Designed to get Barnsley's youngsters off the streets and stop antisocial behaviour across the town, it will extend across two storeys of development.
It will include a large sports hall which will include a multi-use games area (MUGA) and a climbing wall, as well as changing room and toilet facilities.
There's also plans for a 'kick pitch' on the roof of the facility, as well as recreational areas such as kitchens and meeting rooms - which will be made available for community and educational uses.
In addition to the sporting facilities on the site, plans also include a performing arts studio, a music room and mentoring kitchen - as well as showers and manager office uses.
Pre-application consultation from OnSide yielded a total of four written responses - all of which praised the scheme.
Despite one response stating the plan is 'brilliant', concerns were raised over the 'bedlam' at the train station due to cars stopping at peak times.
A response to the resident offered the solution that a drop-off and pick-up parking bay close the centre's entrance is included in the plans - though from their experience around 85 per cent of youngsters make their own way to the area.
"The youth zone will be open whenever local schools are closed: seven days a week, all day Saturday and Sunday and all-day during school holidays," the report added.
"The entry fee is only 50p for a typical four-hour session, with a wide range of leisure, sporting, artistic and cultural activities available.
"This state-of-the-art space is purposely built for young people aged eight to 19 years old, or up to 25 for those with additional needs.
"With at least 20 activities to try each session, staffed by skilled youth workers who believe in young people and help them see what they could achieve. "