ARTIST Patrick Murphy has continued his series of collaborations with 'Bard of Barnsley' Ian McMillan - with a poignant piece centred on what art can do in times of conflict.
Prints of the work are now on sale at the Cooper Gallery and all money raised from sales will go to the Ukraine Humanitarian Appeal.
Over a background in the colours of the Ukrainian flag, a white dove of peace - much of Patrick's work involves birds, symbolising hope and freedom - joins Ian's poem dedicated to Barnsley's twin town of Horlivka.
The poem asks: "What can a poem do against the sound of gunfire and the shattering of glass?"
Patrick, 52, said: "I've worked with Ian on a few art projects, and I just saw one day that he'd wrote this poem about Barnsley's twin town.
"I thought it was really nice - it poses the question, what do you do in times like this?
"There's almost nothing you can do. Most of the time you just feel helpless.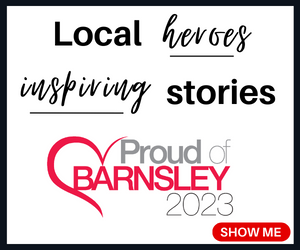 "What can a poem do, and art do, against war?
"Having worked with him a few times, I thought how can I respond, and maybe do something that can help in some degree.
"It's only a tiny, tiny thing."