A WILDLIFE hide which was torched by arsonists at an award-winning nature reserve - narrowly avoiding a 'near-disastrous event' - has finally been replaced after tireless work by volunteers.
Carlton Marsh was targeted in September, which saw firefighters scramble to the Shaw Lane site and tackle the burning structure for several hours in a bid to stop it spreading.
The wooden hide, fitted 30 years ago, was set alight and volunteers responsible for the site's upkeep - who have bagged a Proud of Barnsley award and multiple accolades from Yorkshire in Bloom in recent years - said it was a 'miracle' it didn't result in the loss of wildlife.
However on Monday, volunteers oversaw a metal hide's arrival - something which will allow visitors to continue watching wildlife for decades to come.
Cliff Gorman, who founded the steering group responsible for the site's upkeep, told the Chronicle: "It was so upsetting when the fire occurred because it was a mindless act which achieved nothing more than undoing volunteers' hard work.
"The hide was a popular one and sheltered thousands of people over the years so we were very keen to source a replacement.
"The new one is metal and has been paid for by insurance money.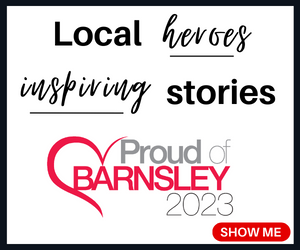 "It has a large noticeboard and provision to hang coats - I'm sure it'll be even more popular than the old, wooden one.
"Thanks go to Couns Charlie Wraith and Joe Hayward for their support on this project."
Carlton Marsh went from being one of the most polluted bodies of water in the county due to the Cudworth Dike tributary's spillage to becoming a hotbed for wildlife, even going as far as being awarded SSSI accreditation - a site of specific scientific interest - by Natural England.
It is home to deer and more than 100 species of birds, with peregrine falcons, marsh harriers and buzzards - as well as several varieties of owls - even being spotted.
Fish have also made a return to the marsh's waterways with mirror carp, perch and chub being recorded due to improving water quality - a far cry from its industrial past.
Coun Charlie Wraith added: "It was great to watch the new hide being placed at Carlton Marsh as it will provide a shelter to many visitors over the coming years.
"It's a huge improvement and we're all thrilled it's arrived.
"The fire could have been so much worse - it doesn't bear thinking about if the fire spread given just how wildlife-rich the site is.
"It was nothing more than wanton vandalism and it beggars belief that there are people, locally, who would even consider doing such a thing."