HEROIC attempts to protect a crumbling hall from becoming overcome with out-of-control foliage - and finally being lost to the elements due to decades of neglect - will continue in a bid to salvage a 'vital part' of Barnsley's history after an MP backed a campaign to bring it back into use.
Grade II-listed Grimethorpe Hall - which was built in 1670 for Robert Seaton - has long been the subject of a series of failed bids to bring it back into use since it was last occupied more than half a century ago.
However, a dedicated bunch of locals are doing their bit to save it and the Chronicle can reveal drones are now being used to assess its roof's condition following the clean-up days.
Following a visit from officers from Historic England, the building was found to require 'extensive repairs' due to criminal damage - which has seen tiles stolen - and water ingress due to its patched-up roof.
Peter Stevenson, from Grimethorpe Residents' Group, helped oversee the clean-up and remains optimistic about its long-term future.
"Our local MP, Stephanie Peacock, brought up Grimethorpe Hall's plight in Parliament and it'd be such a shame if we were to lose what is a vital part of Barnsley's history," he told the Chronicle.
"The clean-ups were a success and while much of the overgrown shrubs, weeds and trees were cut back by members and a team from GXO Logistics - a business based nearby on Park Spring Road - the condition of the roof was a concern as a result of the drone flights."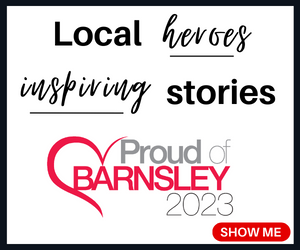 Although it has not been lived in since the 1960s, it has had a colourful history since and was saved from demolition in 1981 when then-owner National Coal Board was unsuccessful in flattening the Brierley Road structure.
However, it was named on Historic England's annual heritage at-risk register last year and conservationists remain in 'positive' discussions with Grimethorpe Colliery Band to take over its running as a base.
The band, which formed in 1917, achieved worldwide fame when it appeared in the film Brassed Off, the plot of which was based on the village's struggles against pit closures, and whose soundtrack was recorded by its members.
Peter added: "Indeed the band's logo has artwork of Grimethorpe Hall, so it would be great to have their members and the masses of museum-worthy artefacts they have picked up throughout the decades housed there.
"A home for the band, a museum and even a cafe are all on the cards, it's just a case of having everyone together to see it through.
"Historic England also believe the hall deserves a much better future having been left to ruin for the best part of 60 years.
"There is still a mortgage outstanding on the building and we're in discussions to see what can be done about it, as it's the main snag point currently.
"But it's positive and we'd love to continue clearing the hall's grounds as it's such a wonderful, historic building."
Barnsley East MP Stephanie Peacock backed the group - and vowed to support them on a national level - having visited the hall.
"It was a pleasure to meet Peter recently who got in touch with me about Grimethorpe Hall," she said.
"Built over 350 years ago, the building is Grade II-listed and on the at-risk register.
"I was pleased to organise a meeting alongside representatives from Historic England and Barnsley Council to discuss the different options and possibilities to restore the hall to use.
"I am very supportive of those in the Barnsley community who are working together to save part of their local history."