MORE than 3,000 annual calls for help from domestic abuse victims in Barnsley could be the 'tip of the iceberg', according to a charity which has bagged a contract to continue their long-term support.
Bosses at Independent Domestic Abuse Services (IDAS) - which has been delivering support in Barnsley for more than five years - spoke out after securing a new seven-year deal to continue the service from their town centre base.
Each year the charity receives over 3,000 referrals, supporting over 2,000 individuals in the community and in their safe accommodation.
The new contract - hailed as vital given the demand - will see the team providing high-quality, specialist services for many years to come.
Lauren Hirst, area manager for IDAS, said: "Many people think of domestic abuse as being punched or kicked but emotional abuse can be just as harmful.
"We work with people to help them make sense of what has been happening and provide them with practical information and emotional support so that they can make their own decisions and feel safer.
"Our teams are supporting many thousands of people, but we know this is just the tip of the iceberg.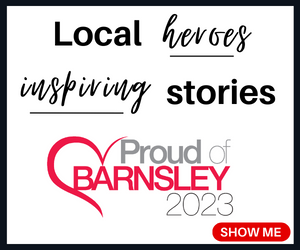 "There will be lots of people who do not know support is out there.
"We are seeing a year-on-year increase in calls to our helpline and in the number of people that we are supporting, and we are very concerned about families who are being abused by a domestic abuse perpetrator.
"The cost-of-living crisis is now limiting their means of escape and their opportunity to gain respite and relief from their abuser, they also risk being further isolated and the cost-of-living crisis weaponised to leverage more control.
"We would urge everyone to print our posters, like and share our posts on social media and save our helpline to your phones to help make sure anyone impacted by domestic abuse can get support."
In addition to the community outreach services, one-to-one support, group work and safe accommodation already provided, the charity will develop domestic abuse mental health support to help survivors overcome the trauma caused by abuse and violence. /
The contract will also help provide additional support for victims of sexual violence delivered by specialist, local charity BSARCS.
Sarah Hill, chief executive of IDAS, added: "We are proud to have been chosen to continue to deliver our life-saving services to support the people of Barnsley.
"Our dedicated team have established excellent working partnerships and we are all looking forward to developing and growing our services over the next many years.
"We would urge anyone who is worried about their own
relationship, or for someone they know, to contact IDAS on 03000
110 110 or visit the website for further information."
Barnsley Council bosses have praised the work of the charity and its 'excellent' services, and have urged residents to get in touch if they are affected.
Coun Caroline Makinson, cabinet spokesperson for communities and public health, said: "We're really pleased that we're continuing to work with IDAS and that they'll continue to provide high-quality support to those who are affected by abusive or violent relationships and sexual violence.
"Over the past few years IDAS and BSARCS have delivered excellent services in Barnsley, and it's great that this support will now continue.
"I urge anyone who is in an abusive relationship, or knows someone who is, to please get in touch with IDAS - please remember that you are not alone, and that there is help available."