STRONGER powers to combat rocketing cases of illicit tobacco being touted by criminals in Barnsley - which has resulted in tens of thousands of cigarettes being seized in the last two years - have finally come into force.
Trading Standards officers - who work alongside Barnsley Council and South Yorkshire Police - now have the power to refer cases to HM Revenue and Customs (HMRC) for further investigation where businesses or individuals have been found to sell illicit tobacco.
New legislation came into force yesterday, paving the way for anyone responsible to be fined up to £10,000.
HMRC, where appropriate, will administer the penalties and ensure the appropriate sanction is applied and enforced.
Depending on the severity of the breach, rule-breaking businesses could receive a penalty of between £2,500 and £10,000, have their tobacco products seized or lose their licence to buy tobacco for resale in the UK.
Julia Burrows, executive director of public health and communities, said: "While all tobacco causes significant harm to people's health, the illicit tobacco trade often has strong links with organised crime and criminal gangs.
"So many of the people smuggling, distributing and selling it are involved in drug dealing, money laundering, people trafficking and even terrorism.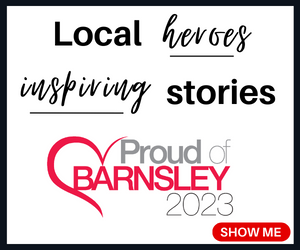 "Even 'small-time' local sellers are at the end of a long criminal chain selling illicit tobacco is a crime and I am pleased that the new sanctions reflect how destructive this industry can be.
"Trade in illicit tobacco damages legitimate businesses, undermines public health and facilitates the supply of tobacco to young people.
Illicit tobacco involves any illegal activity over the lifetime of a tobacco product, including smuggling and counterfeiting cigarettes.
"We can all make a real difference to help keep illegal tobacco off the streets by reporting it.
"If you spot anything suspicious you can report it in confidence by calling 01226 773536 or emailing regulatoryservices@barnsley.gov.uk."
The tougher measures form part of the ongoing work between the council and its partners to prevent and tackle the trade of illicit - and subsequently dangerous - tobacco products on the town's streets.
Biedronka European Mini Market, on High Street, Wombwell, was issued with a closure notice last year after officers found its landlord selling illegal cigarettes.
More than 10,000 items were found by officials at a Cudworth shop, which resulted in Hussain Anwari, of Honeywell Close, receiving a 26-week prison sentence, suspended for 12 months.
Soon before, Dilzar Kadir Ahmad, 35, of Blenheim Avenue, pleaded guilty to seven charges under the Tobacco and Related Products Regulations 2016 and Standardised Packaging of Tobacco Products Regulations 2015.
Officers also visited the 7 Day Store on the Peel Arcade and found a large quantity of smuggled cigarettes hidden underneath the floor of one of his store rooms.
All the legal cigarettes sold in the UK are manufactured to meet a reduced ignition propensity (RIP) requirement which means they are self-extinguishable.
This significantly reduces the chance they can set fire to beds, sofas and any other type of combustible materials.
However, some of the illegal cigarettes that are being sold are not self-extinguishable and have subsequently been attributed to a number of house fires and deaths.
There are a number of ways to spot illegal cigarettes, including the packaging, price and taste of the product, and they are usually cheaper than others and the taste and smell is unusual.
A council spokesperson added: "The team are reminding residents not to purchase non-duty paid or smuggled cigarettes.
"Though all tobacco products are harmful, illegal cigarettes do pose more of a risk.
"They're also encouraging landlords to report any illegal cigarette trading that they're aware of on their properties, as not doing so could lead to them being taken to court."