SIGHTS have been set on fast-tracking a commemorative blue plaque in Cudworth to honour the passing of Barnsley's most famous son, the Chronicle can reveal.
Sir Michael Parkinson, who grew up in Moorland Terrace in the village, died last Wednesday following a short illness.
The news prompted a sea of tributes to be posted both locally and nationally in memory of the 88-year-old chat show king, who was educated at Snydale Road First School in Cudworth and Barnsley Grammar School afterwards.
Coun Joe Hayward, who represents the Cudworth ward, revealed a plan to install a blue plaque - which are fitted onto Barnsley buildings to celebrate the accomplishments of acclaimed individuals who achieved significant feats in their lifetime - given the reaction.
However, it is hoped a sticking point with usual rules - which require a recipient to have been deceased for a decade - could be waived by the Barnsley Civic Trust due to Parky's illustrious career.
Coun Hayward told the Chronicle: "The outpouring of support for Sir Michael's family has been overwhelming and it shows just how well thought of he was.
"That's not only in Cudworth, it's Barnsley, Yorkshire and the entire country.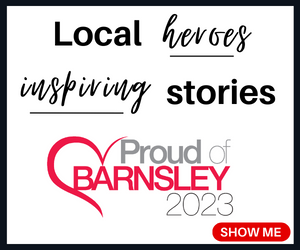 "Usually there's a lengthy gap between a person's death and the subject being eligible for a plaque, but we're hopeful this can be changed given Parky's standing.
"It would be incredibly fitting to have this fitted at Moorland Terrace or the Dorothy Hyman Stadium."
After leaving school at 15, he did his journalism training at The South Yorkshire Times.
He joined the Barnsley Chronicle before stints at the Yorkshire Evening Post, The Guardian and the Daily Express and The Sunday Times in 1965.
He began his chat show 'Parkinson' on BBC1 in 1971, running until 1982 and from 1988 to 2004 on the BBC and until 2007 on ITV.
There are 19 blue plaques in Barnsley for notable people including James Hudson Taylor, Joseph Bramah, Brian Glover, Joseph Locke and Barry Hines - but it's hoped Sir Michael's will be the 20th.
Coun Hayward added: "His contribution to the media was exceptional and we'll be doing all we can to have something put in place to honour him.
"I've lost count the amount of times I've been asked this week if anything is being planned and I can assure people that we'll be pursuing this.
"I can't see why funding would be an issue for such an important thing."
A Barnsley Civic Trust spokesperson said the local scheme - which runs alongside the English Heritage group - was always designed to honour local people who have achieved acclaim during their lives.
"Blue plaques are put up to recognise a building or place's connection with a significant person from Barnsley or with an event in the history of Barnsley.
"The person might be a prominent individual in the history of the borough or someone whose achievements are more widely known.
"By agreeing a blue plaque, we celebrate these people - the best of Barnsley - and what they have achieved.
"Some have also been erected to commemorate events which took place at the location rather than the people who lived, worked or studied there."