VULNERABLE residents who are self-isolating at home due to the coronavirus pandemic have been told to be on high alert - after more bogus officials claiming to be carrying out work on behalf of a housing provider were reported by concerned tenants.
Police are investigating incidents in Kendray and Worsbrough and have urged residents to remain vigilant following numerous reports of a fraudster trying to enter homes.
The Barnsley West Neighbourhood Team received reports of a man wearing an orange high-visibility jacket claiming to work for Berneslai Homes.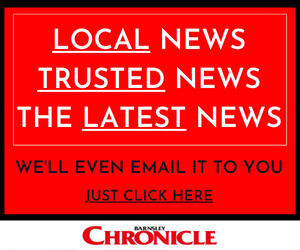 According to the police, the would-be fraudster has been knocking on doors and attempting to trick residents into allowing entry by claiming he is there to carry out boiler checks due to the cold weather.
Police have handed out stickers to residents, which can be placed in windows, displaying a sign which warns unwanted callers not to try their luck.
A spokesperson told the Chronicle: "We have checked with Berneslai Homes, and this male does not work for them.
"We are carrying out enquires to identify the male.
"If someone attends at your property, do not let them enter without seeing identification first."
According to officers, offenders have been tricking their way into people's homes to steal money or valuable items - a method known as a 'distraction' burglary, which have rocketed since many vulnerable people were forced indoors for large parts of last year.
Pensioners - often those living alone - are deemed to be of higher risk from door-knocking criminals, and officers from the town's neighbourhood policing hubs are patrolling areas with large populations of self-isolating residents.
Calls from the over-65 age bracket in Barnsley relating to distraction-type burglaries now account for 81 per cent of all received from pensioners, according to latest figures.
A spokesperson from Berneslai Homes said: "Most tenants should be expecting a visit from us as we make appointments for the majority of our calls.
"We encourage tenants to check our staff members' ID badges and if, in any doubt, don't let them in.
"They can call us on 01226 787878 if they are unsure about the official nature of a caller. Our message is simple: if in doubt, close the door.
"A genuine Berneslai Homes worker wouldn't be offended and you'd be safe."
Bogus officials have also claimed to work for Barnsley Council, the NHS and charities in recent months in order to gain entry.
The police spokesperson added: "Offenders may make themselves seem genuine and friendly at the front door.
"Keep an eye out on neighbours as vulnerable, elderly and isolated people are often targeted, while Barnsley's neighbourhood policing teams can be contacted to raise any concerns.
"If you do believe you have been approached by a bogus caller, report the details via 101."