A MAN whose face was cut open with a glass during an altercation with an ex-professional footballer said he was 'relieved' a two-year battle to take the case to court has ended.
The incident, involving former Barnsley FC player Ian Banks, occurred outside a bar in Wickersley, Rotherham on March 2, 2019.
Banks, 60, of Leewood Close, Brampton, was issued a two-year conditional discharge at Sheffield Crown Court on March 19 after pleading guilty to affray - using or threatening unlawful violence.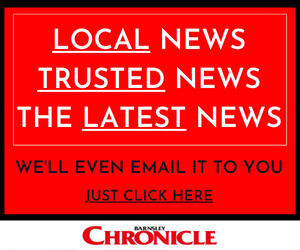 He was found not guilty to two further charges of wounding with intent and unlawful wounding.
But Rob Connelly - a lifelong Barnsley fan - said he was satisfied to see Banks have his time in court after the ex-pro initially 'played the victim'.
The 25-year-old told the Chronicle he had, moments before the incident, arrived at the bar to meet a friend before a misunderstanding with Banks - who played more than 300 games in two stints for the Reds in the 1970s and 80s - led to a fight breaking out.
Rob said blood was pouring from his face - but in the confusion, he was thrown out onto the street while the altercation continued before Banks was taken to hospital in an ambulance.
"I went with one of my mates to a local bar we always go in, for a few beers," he said.
"It's a nice area, but the popularity has gone up in the last few years which means you do get a lot of idiots coming in.
"We went to meet a couple of lads. I walked in through the side entrance, and saw my mate so went over.
"Ian Banks comes stumbling across and his missus is stood behind me.
"He said something to me - it was really loud in there, so I said something like 'what did you say, mate?'
"And the next thing I know, I got glassed in the face.
"I'd literally just walked in, about ten or 15 seconds before.
"I got thrown out by the bouncer and couldn't see anything because blood was pouring out of my face.
"One of my mates got thrown out, they'd thrown Ian Banks out, and there was a massive scuffle.
"The ambulance wouldn't take me because they thought I was the one who attacked him.
"I'd never seen him before - I'm a Barnsley fan, but I didn't know who he was by looking at him.
"It has been annoying me when he's been giving interviews saying it's changed his life and all that, getting the sympathy vote."
Banks, also injured in the incident, told the Chronicle at the time that he remembered little of the night but had been out celebrating a friend's birthday.
He had stitches to the back of his head and bruising on his face.
Rob may require surgery on his right eye, and still has scarring on his face as well as battling the mental effects of the incident.
"Going out, when the pubs opened back up, I felt really on edge," he said.
"It's just constantly on my mind.
"My bottom eyelid doesn't shut properly - it really cut my face open and I needed about 30 stitches."
Rob's dad Michael, 58, originally from Hoyland, added: "It's ironic that we're both Barnsley fans but hadn't really heard of him.
"At least he's not getting away scot-free and he's got to keep his nose clean for two years."