BARNSLEY'S community spirit shone through and left the mum of a little girl - who has had two open heart surgeries in just 12 weeks - 'incredibly overwhelmed' at the outpouring of support.
Leanne Shirt, 34, and her partner Mike Pickersgill, 33, of Beech Street, have had a tough few months following the birth of their daughter Hope in January.
At Leanne's 20-week scan she was told that something was wrong with Hope's heart and due to coronavirus restrictions she had to be told alone - a day she admits she'll never forget.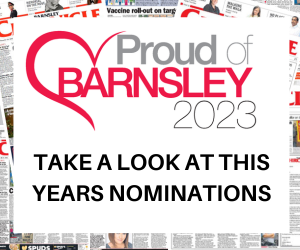 She told the Chronicle: "She had a double outlet right ventricle, VSD (ventricular septal defect) and severe pulmonary stenosis.
"We originally thought we could have her in Barnsley Hospital but we ended up having to have her in Leeds - after she was born she was on the neonatal unit for a while."
Hope was transferred back to Barnsley after a week because her condition had stabilised - but things later took a turn for the worse as her oxygen levels started dropping and so she was transferred back to Leeds.
"On January 22 Hope's stats were up and down all day and she kept having spells - which the doctor said are like mini heart attacks," Leanne added.
"She had keyhole surgery to insert stents but she wasn't able to fully have her heart repaired until six months - she came home for the first time at three weeks and the doctors came to check on her regularly.
"On March 23 her oxygen levels dropped really low and so she had to stay overnight in Barnsley before she was transferred back to Leeds."
Three days later Hope had surgery for a full heart repair but due to complications doctors had to create a makeshift tube to detour the blood from the lungs, as her heart was too small to do what they needed to.
"Whenever she was awake she was having spells and her oxygen levels were really low so that's why she went into open heart surgery," Leanne added.
"They couldn't do the full repair because a main artery was blocking where they needed to cut which is why they made a makeshift tube - they've told me she's going to need another operation when she's one.
"Hope is still in intensive care and she's very poorly and her kidneys weren't working so she had to be on dialysis for a week.
"She's been on and off the ventilator but she's still needing oxygen - she had fluid around her heart and pre-op she weighed 11lbs 4oz and post-op she was 13lbs 14oz.
"We're trying to stay positive and hopefully her operation when she's one will go better."
Leanne has been able to stay in accommodation within walking distance thanks to The Sick Children's Trust which provided her a room at Eckersley House - though this has meant she hasn't seen much of her older two children, eight-year-old Kaylem and six-year-old Eve.
Leanne says she has been left overwhelmed with the support from friends and family - and a Facebook page has been set up to help the family deal with certain costs.
"It's been really hard but everyone has been brilliant in supporting us - family and friends have been amazing with what they're doing," she said.
"One of the hardest things at the minute is the prices of everything and it's been really hard to be away from my partner and my two other children.
"It's very overwhelming that people have been raising funds for us, and even though I don't like taking the money, it has really helped us take the stress off because we were down to our last £2 at one point."