MARKET traders in Barnsley have come together to feed more than 650 local families on low incomes since embracing an innovative voucher project.
The project is run by the Alexandra Rose Charity in seven locations around the UK and Barnsley is the currently the only location in Yorkshire where the project is established.
It helps families facing food poverty to access fresh fruit and vegetables.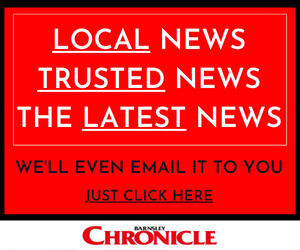 A family receives £3 of so-called 'Rose Vouchers' for each child, every week, or £6 if the child is under one year of age.
The vouchers can be exchanged at four stalls at Barnsley Market - recently transformed and modernised as part of the Glass Works development scheme - as well as two outlets in Wombwell, Lorraine's at Barnsley Hospital, one in New Lodge and one at Penistone Market.
Barnsley Market trader Darren Slack, who runs DS Fruits, joined the scheme when it was launched.
"This scheme gives children the healthiest start," said Darren.
"Buying fruit and vegetables from a supermarket can quickly get expensive if you've got kids but we're able to give families what they actually want and need.
"Because we are already great value, they get a lot more in their shopping bags."
Fellow trader Alan Parkes, who runs the nearby 5 A Day stall, added: "It's brilliant that the traders have managed to support so many families.
"It's a privilege to be involved with the Alexandra Rose Charity and see the impact it's having in Barnsley."
Mum-of-three Kelly Drury, 33, has been using the scheme to help feed her family and believes they have been a 'lifesaver' during lockdown.
"I had a baby during lockdown and I've got a six-year-old and a four-year-old," Kelly, of Athersley North, added.
"With the children being at home more in lockdown, the Rose Vouchers have been a lifesaver as I've been able to access more fruit and vegetables.
"The children are now eating ten times more fruit, including berries and strawberries, which can be expensive."
She also takes part in a weekly virtual cooking group with other families.
"I feel my mental health has eased as I now take time out to attend the cook and eat sessions and family cooking sessions.
"The staff at Athersley North Family Centre have been brilliant, so supportive and helpful."
Cllr Trevor Cave, cabinet spokesperson for children's services at Barnsley Council, said: "Our market traders have always offered a warm welcome and provide an incredible service to the community.
"It's fantastic to see how they're supporting this vitally important project and are supporting the Barnsley community.
"I'm sure they've made a big difference to many families, particularly during the pandemic when finances have been particularly tight.
"Helping families give their children a healthy start is a huge priority for the council and we're very proud of our market traders.
"The new markets are packed full of great value food stalls and are fundamental to the transformation that's going on in Barnsley town centre.
"The Rose Voucher scheme is encouraging people to visit the market and shop locally - that's great news for everyone and we're confident it will continue as the Glass Works development, of which the markets form a central part, aims for completion at the end of the year."
A total of 331 Barnsley families currently receive vouchers.
Jonathan Pauling, chief executive of the Alexandra Rose Charity, added: "We are really proud of the beneficial impact the project has had for families in Barnsley.
"This success is hugely dependent on the commitment of family centre staff and market traders, who are dedicated to supporting their community."