THE shocking scale of the number of stillborns, infant babies and children buried in a little-known public grave has been revealed - and councillors are spearheading a campaign to fund a fitting memorial at the site.
Penistone-Stottercliffe cemetery is home to the graves of more than 700 youngsters buried approximately between 1880 and 1980, with not so much as a gravestone for recognition.
The majority of the babies and children are buried in a large patch of land at the cemetery - which was overgrown until recently - while others are believed to be buried in unmarked locations around the Thurlstone Road site.
A fundraiser has been set up to finance a memorial, giving somewhere for local people and living family members of the infants to pay their respects.
The online fundraiser - set up by Penistone West Coun David Greenhough - is asking for donations to meet their target of £5,000.
Richard Galliford, 71 - whose stillborn sister was buried there in 1949, as well as his twin cousins - brought the forgotten grave to the attention of local councillors.
Research into cemetery records was then undertaken by volunteer record-keepers for burials in Barnsley cemeteries, including local expert on the matter, Peter Shields, who had a daughter buried in an unmarked grave in Wombwell and has been involved with similar projects.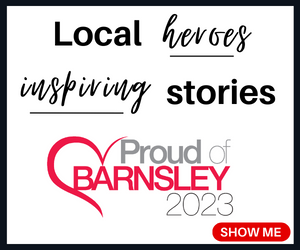 A meeting with Richard, researchers, Penistone West councillors, Barnsley Council officers and a member of St John's Church, Penistone, was then held, resulting in a decision to fund a memorial.
Richard said: "I am pleased to announce the launch of the babies' memorial fund that will acknowledge the area of land at the bottom of the cemetery as a place of significant importance.
"There are no stones to recognise that they ever existed, and our aim is to place a suitable memorial to ensure that they are no longer forgotten.
"It's now over to our Penistone community - we need their support so we can provide a memorial for all those little souls.
"They will no longer be forgotten and will become part of the history of our area."
Richard said he had already been approached by families wanting to know the location of their relatives' resting places, and he believes the number of known burials of babies will rise 'substantially' as further research is undertaken.
Coun Hannah Kitching - who is also involved with the project - said: "Public graves of this type were commonplace across the country and across the borough, right up until the late 1970s.
"Before that time, babies tragically born sleeping were not required to be properly registered and were simply taken away from their grieving parents, who often weren't told where they had been laid to rest.
"Furthermore, there were times when many children did not survive infancy, or died of illness in childhood, and families with other mouths to feed simply could not afford a funeral or burial.
"Happily, things have changed now, with much better support for bereaved families, but there are so many tragic stories of loss, heartbreak and uncertainty and it is important to acknowledge and commemorate that."
Coun Greenhough added: "We want to ensure that the cemetery has a permanent memorial to these lost souls somewhere that family members can go to pay their respects, to remember, to think, and to lay flowers if they wish.
"What we can create simply depends on how much money we can raise, but we have the total support of Barnsley Council's bereavement services team.
"We would like to see a plaque, perhaps a bench and a small garden area.
"We hope also to be able to create a searchable database so that if people think they have a family member buried in the plot, we should be able confirm that for them relatively easily."