PARISHIONERS received a surprise when they uncovered a toy soldier and a letter at the top of a historic memorial pillar dedicated to the 199 men and one woman who died in World War One.
St Mary's Church in the town centre hosted the second of its public exhibitions last weekend, revealing the iconic colours of two historic Barnsley regiments which have been painstakingly restored for generations to come.
The colours of the 13th (First Barnsley) and 14th York and Lancaster Regiments were found in a cupboard in St Mary's Church, on Church Street, in 1990.
They had been awarded in 1919 after the First World War but had been forgotten and were slowly 'turning to dust' until a team of volunteers - spearheaded by local historian Jane Ainsworth - embarked on their restoration.
However, just before throwing open the historic church's doors, the mysterious model soldier and letter were uncovered at the top of the plinth.
Jane told the Chronicle: "When I saw the letter I held it up to the light and the only word I could read was the surname 'Riddiough'.
"Almost incredibly a visitor became aware of the name and introduced himself as being married to one and being very close to his brothers-in-law, one being Brookes Riddiough.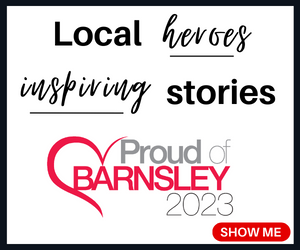 "Three Riddiough brothers - Brookes, Erny and Gill - had decorated the war memorial chapel and left the letter with the plastic soldier which they'd found in the churchyard.
"Their uncle, Ernest Riddiough, is one of the names on the pillar - he was only about 17 when he was killed.
"The colours may not have moved very far within the church, but it has been a long journey.
"Inevitably, framing the colours has been expensive to do properly, so we are extremely grateful to individuals who made generous donations."
The two public open days - described by Jane as a success - were attended by Mayor of Barnsley Coun Caroline Makinson and Lord-Lieutenant of South Yorkshire Andrew Coombes, overseen by Rev Canon Stephen Race.
Coun Makinson added: "I attended St Mary's and was accompanied by Melvyn Lunn, who showed me around the exhibits that had been organised for the day.
"I particularly enjoyed viewing the Barnsley Pals' colours exhibit, and the intricate work carried out in order to preserve these pieces of history.
"The colours are now framed and can be viewed in all their glory.
"The work the heritage group does is excellent in preserving all parts of the history of St Mary's, and it is great that future generations will be able to see all of this in years to come."