BARNSLEY'S Alhambra Shopping Centre has been put up for sale for £10.5m after concerns were raised last year about the site's future, the Chronicle can reveal.
Receivers Avison Young were appointed at the venue - which opened in August 1991 known as The Mall - on Cheapside in the heart of Barnsley to find a new buyer last November.
The purpose-built scheme has 41 retail units arranged around a central atrium, with anchor stores including Wilko, Primark and Iceland, as well as a 496-space car park.
However, after the departure of long-opened retailers including TX Maxx and Next both of which have moved to Barnsley Council's £200m Glass Works scheme a stone's throw away the 182,000sq ft venue is now for sale.
James Yates, Director at Avison Young, said: "Due to its well-connected town centre location and well-suited retail offering, the Alhambra has a strong local catchment, with the people of Barnsley tending to shop locally resulting in consistent footfall for the centre.
"There are numerous opportunities for further investment and asset management which would enhance the scheme and help to position it centrally within Barnsley Council's wider vision for the town centre.
"This is an excellent opportunity to acquire a very well-occupied scheme with opportunities to increase and diversify the tenant mix, and offering more leisure amenities such as a gym, medical operator and food and drink outlets, increasing dwell time in the centre and thus footfall."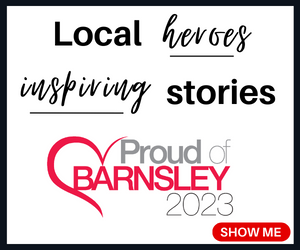 Occupancy levels in Barnsley town centre are 'performing well' but council bosses say they are 'very aware' that more needs to be done to let empty units.
Matt O'Neill, executive director of growth and sustainability for Barnsley Council, added: "We are keen to welcome a buyer for the Alhambra who is looking to invest in the town centre and be part of Barnsley's thriving economy.
"Barnsley is open for business, with our central location, excellent links to major road networks, digital connectivity and attractive quality of life offer.
"Interested buyers can contact us to learn more about the plans for the town centre and wider borough, how they might embed themselves in the town centre's business community and the promotion of the town centre to visitors and residents going forward."
Coun Sir Steve Houghton, leader of Barnsley Council, praised the town's occupancy rate and told the Chronicle that the Glass Works has not had a negative impact in that respect - despite the empty units on Cheapside and the concerns raised around the Alhambra.
"Occupancy levels are performing well across the town centre at 84 per cent," he said.
"The national occupancy rate is currently at 89 per cent so here in Barnsley we are only slightly below the national occupancy figure, which is positive considering the recent challenges.
"We know there is more to be done and continue to work with our partners, businesses and property owners to explore various opportunities that will aim to further reduce the vacancy rate in the town centre.
"We are not resting on our laurels.
"The Alhambra has been a vital part of our town centre since it opened in 1991 and is much-loved by our residents
and visitors.
"As a council, we are very supportive of businesses and key private-sector asset owners in the town centre.
"For this reason, we have been working jointly with the fixed charge receiver of the Alhambra over the last few months to explore options for long-term sustainability of the centre.
"The confidence they have in finding a new owner for the Alhambra reflects the vibrancy of our town centre and the high footfall and spend we have seen in the town centre both pre and post-pandemic."