DAME Hilary Chapman, the Lord-Lieutenant of South Yorkshire, was this week announced as a patron of Barnsley Hospice.
Along with fellow new patron Dan Jarvis MP, this extraordinary lady will be volunteering her time and expertise to support this valuable service.
And, as with all her commitments and responsibilities, Dame Hilary, 59, will undoubtedly approach the role with dedication, compassion and hard work.
She said of her new responsibility: "As a resident of Barnsley, it is my privilege and pleasure to join our hospice as one of their patrons. From my nursing career, I know how important palliative and end of life care is, so I'm extremely proud to support the work of Barnsley Hospice.
"I am very much looking forward to working closely with Dan and everyone at this outstanding local facility."
Having read everything I could find online about Dame Hilary, I must admit to being a little nervous about meeting her: she's a dame, a professor, a doctor of medicine, as well as being the first woman to ever hold the position of Lord-Lieutenant of South Yorkshire &
I needn't have worried - she welcomed us into her office in the town hall with a big smile and a warm enquiry after our well-being so much so that we spent the first ten minutes talking about us rather than her.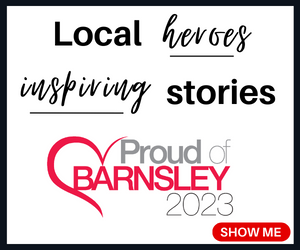 Maybe not so surprising when you realise that Dame Hilary's nursing career spanned 40 years - she began and ended her main NHS career in Sheffield, retiring as chief nurse at Sheffield Teaching Hospitals NHS Foundation Trust.
During her career, this respected nursing leader also co-led the development of the Safer Nursing Care Tool, which is now used widely in hospitals across the UK.
In 2016 she became a Deputy Lieutenant of South Yorkshire before being appointed Lord-Lieutenant in November 2021 although at the time, Dame Hilary did consider turning the opportunity down.
"When my predecessor Andrew Coombe was ready to retire as the Lord-Lieutenant must do on their 75th birthday, I was invited to a meeting to talk about the qualities a Lord-Lieutenant should have. At the end of the meeting, they asked me if I would consider the role.
"I felt as though I wouldn't have the time to do it justice but my husband Neil and my predecessor Andrew said to me that it was a once-in-a-lifetime opportunity and the biggest privilege of your life and I realised that was true."
In her role, Dame Hilary, who lives in Barnsley, heads up the lieutenancy team of 43 deputies and she is tasked with promoting the growth, development and pride of South Yorkshire.
She is the King's representative and this can include being involved in Royal visits, representing the King and wider Royal family in the county on visits and official events as well as presenting some of the King's New Year Honours to South Yorkshire recipients.
"I have visited some brilliant places like the Exodus Project in South Hiendley and met some great people.
"I take my responsibilities seriously every event is important to someone. I always make sure I step up to the plate and do my best. If I have a speech to make then I will do my research and make sure I do it properly.
"I was brought up with good values my sister and I had a lovely childhood. We lived in a farmhouse which had land. I can remember us holding an event there for the Queen's Silver Jubilee,
"We weren't rich my parents had to work and they taught us not to be frightened of hard work but we were privileged.
"When I was awarded the CBE, my mum, who was a teacher, used to meet up with all the retired teachers from our school and she told one of them about it and she said: 'Fancy that from little Hilary Brown'.
Dame Hilary is undoubtedly a South Yorkshire treasure who spreads warmth and encouragement wherever she goes& we're certainly lucky to have 'little Hilary Brown' in our corner.