WORRIED residents in Wombwell had a lucky escape from a second flooding disaster at the weekend, with one woman even breaking her wrist when measuring the river level.
Storm Ciara caused havoc across the borough last weekend with fallen trees, flooding and road closures, leaving many people who were affected by the November floods panicking that their homes were about to be waterlogged.
Wombwell in particular was hit hard last year, with many residents on Station Road having to move out or be housed elsewhere because their houses were so badly damaged.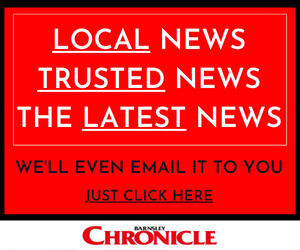 One of these residents was Sue Bradshaw, of Stonyford Road, who is the chair of the Low Valley Flood Defence Committee. Sue's home was badly affected last year and she said she is 'fed up' of the panic every time the prospect of a storm or extreme weather is announced. Storm Ciara didn't affect her house, but did flood her garden.
"It's awful and we're living in panic," said Sue, who has lived in her house on Stonyford Road for nearly 35 years. "This time I broke my wrist when I was checking the level of the river. I just slipped so that hasn't been fun.
"We just want to get something done to prevent this from happening again. The river didn't burst its banks this time but it wasn't far off.
"We're always worrying about what will happen in this weather."
Sue, who picked up the role of chair for the flood defence committee after her husband Pete died in 2013, said the first time the property was waterlogged was in the 2007 floods and the garden and up to her back door has been flooded four times since.
"We have to move out for a year after the 2007 floods," said Sue, 60. "I don't want that to happen again. I am a childminder by trade and my business is at home so when it flooded last year I lost two weeks of work. I couldn't claim that back.
"This is just a nightmare."
Sue has held a meeting in response to plans for 111 houses on land bordered by Station Road on its southern edge, Stonyford Road on its east and the River Dove and Bulling Dike on its north and west respectively. She said she's been told the 'new houses will be protected' from floods, but other residents are concerned about this.
Wayne Jones, who lives on Station Lane, is currently living with his in-laws with his wife because their house was so badly damaged in November. He is now having to wait while new flooring is put down and other parts of the property are repaired.
"We were lucky to not have the property affected this time," said Wayne. "I went back down to see what the road was like on Sunday and although the house wasn't flooded, it was close. Luckily, it seems like no houses were affected on the road this time."
The 47-year-old self-employed kitchen fitter said he is tired of feeling like Barnsley is being left behind when flooding is happening.
"It seems like in Barnsley we have been left out on a limb. It also feels like no one wants to do anything about this and to solve it. I'm just tired of all of this."