A COUPLE whose twins died last weekend while the mother was 17 weeks pregnant are campaigning for a change in the law to recognise stillbirth at an earlier stage in a bid to potentially save lives.
Robert and Kylie Osbourn, of Cudworth, were delighted when they discovered they were expecting in November after three years of trying to conceive.
The couple were due to begin IVF, however Kylie fell pregnant naturally and they were even happier to discover that they were expecting twins.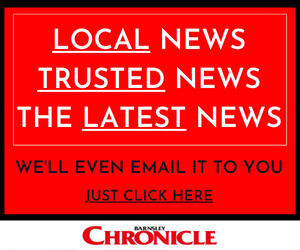 "We were over the moon when Kylie fell pregnant - it was one of the happiest moments of our lives," said Rob.
"When she was six weeks pregnant she began experiencing bleeding, so we went to Barnsley Hospital where they assured us that things were fine.
"We had the 12-week scan and again we were assured that things were fine however a week later, she began experiencing bleeding and following another trip to the hospital we were transferred to Sheffield to see a specialist team."
When the couple went to Sheffield, they were given news that their babies were suffering with twin-to-twin transfusion syndrome.
The syndrome happens with identical twins who share a placenta and when there are too many blood connections in one direction, there is an unequal flow of blood between the twins, meaning one twin receives more nutrients than the other.
The hospital decided that the couple would go for weekly scans to monitor the twins' progress.
The couple went for the 17-week scan where they were told the smallest twin was struggling and they were sent to London for an emergency laser ablation, a procedure used to seal off some of the blood vessels in the placenta so that both babies receive a more equal supply of blood.
Following the procedure, Kelly's waters broke, and the next morning a scan revealed that both babies, named Rosie-Jean and Maisie-Ann Osbourn, had died.
"We are beyond devastated to have lost our girls," said Rob.
"The hospital was amazing but it was then that we were informed that because the babies were born at 17 weeks, we could not register their birth or death as it's classed as a miscarriage.
"Our babies were wanted and Kylie had to go through the experience of giving birth and our girls looked normal. It's breaking my wife's heart that we can't even take steps to acknowledge that they exist.
"Because the law states that you can have a termination at up to 24 weeks it's denied me, my wife, and several other women who have experienced losing a baby this early the opportunity to give our baby a name and let the world know they existed.
"We've set up a petition to have our children recognised. We want stillbirth to be recognised from 12 weeks so parents can mourn the loss of their children properly and their death can be recognised in the eyes of the law."
Stephanie Peacock, MP for Barnsley East, added: "I was incredibly saddened to hear of Robert and Kylie's heartbreaking situation. I am willing to meet with them when they are able to, to discuss how I can help both Robert and Kylie and those in similar situations.
"Barnsley Hospital has a registration process to support families such as the Osbourns through tragic circumstances like this and I am happy to work with the hospital on this."